The process control system of the waste paper preparation section made it possible to start the equipment in manual / semi-automatic and fully automatic modes.
The system is divided into 5 nodes, each of which controls a separate part of the site.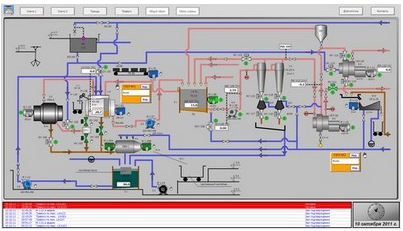 General view – 1
The main functions are laid down:
– the correct order of turning on and off the nodes of the site;
– equipment operation in the required mode;
– observance of the washing condition to exclude unwanted compaction with paper pulp;
– level control in pools
– equipment operability control;
– various interlocks during the operation of the equipment;
– issuance of emergency messages to prevent failure of the technological line and minimize financial losses;
– data archiving for further analysis;
– obtaining the purification of the mass of the required quality;
– maximum exclusion of the human factor.
The system is made using equipment of the following brands:
– TVD control cabinet;
– Siemens PLC;
– Wago terminals;
– Relay Finder;
– Schneider power supplies;
– Visualization WinCC;
– Network equipment Asus;
– Marking Weidmuller.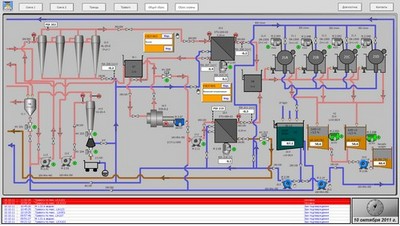 General view – 2
The equipment available at the enterprise was used as floor equipment.
Order code: TS-PM010.00-00