The device is designed to determine the thickness of paper and cardboard in accordance with GOST 27015-86. The principle of operation is based on measuring the value of the vertical displacement of the measuring rod on which the measuring fifth is fixed when the test sample is introduced between the contact surfaces of the measuring feet.
The displacement of the rod is measured by a precision optical sensor, which, in combination with precise manufacturing of mechanical assemblies, provides a measurement error of no more than 0.003 mm over the entire measurement range.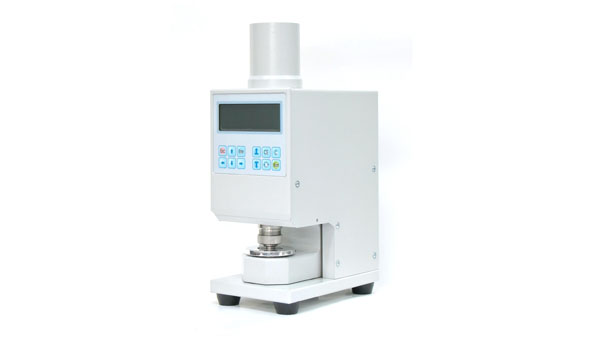 TBK-T
The thickness gauge has a manual measurement mode for single measurements and an automatic mode for multiple measurements. From the number of measurements taken, the average value is calculated and displayed. The measurement results can be transferred to a PC to a database. Combined thickness gauge TBK-T replaces the discontinued cardboard thickness gauge TNK-10A and paper thickness gauge TNB-5A.
Specifications:
– Limits of measurement of thickness, 0-5mm, 0-10mm;
– The division of the scale for determining the thickness of the sample 0001 mm;
– permissible measurement error ± 0.015 mm;
– compliance of readings 0.005 mm;
– The speed of lowering the measuring rod is 0.5 cm / s;
– Pressure 100 ± 5 kPa;
– the contact surface area of ​​the measuring feet is 2 cm 2;
– Departure of the body bracket 60 – 200 mm;
– Power, no more than 30 W
– Overall dimensions 300x195x420 mm, 400x195x420 mm;
– Weight 25-30 kg, not more.
Order code: TL-PF009.00-00 – TBK-T
Technical documentation TBK-T