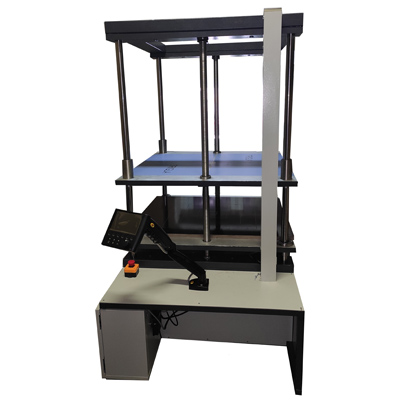 Test press STI-1MK (hereinafter – press) is designed to test paper and cardboard in accordance with the methods set forth in the following national and international standards:
DSTU ISO 12048: 2006 Packaging. Transport containers, complete, loaded. Compression and stacking test using a compression device
(ISO 12048: 1994, IDT)
The press is intended for use in laboratories of pulp and paper enterprises and related industries.
Specifications:
– Maximum compressive force, N (at customer's choice) 12000;
– The limit of the permissible value of the reduced error
compressive force from the upper limit of force measurement,%, not more than 2.0;
– Overload protection – electronic, triggered when reaching
92% of the permissible load of the force meter, (factory setting), N 4600.
– Moving the movable plate (top), mm. 950;
– Dimensions of the working part of the plates, mm. 800×1000;
– Loading speed, mm / min. 10 ± 3;
– Slab return speed, mm / min. 400 ± 50;
– The maximum number of tests is 10 (in one series);
– Lateral displacement of the plates relative to each other when
test no more, mm. ± 0.05;
– Deformation measurement error, no more than, mm ± 1;
– Display:
load versus displacement graph (N / mm):
one-time values;
the average value for the group of experiments;
root mean square value;
maximum and minimum value.
printing results
– Power supply from 187 to 242 V, (50 ± 0.5) Hz;
– Power consumption, no more, VA, 150;
– Overall dimensions, no more, HxLxW mm, 2100x1400x1030;
– Weight, no more, kg, 800.