One of Trigla's products is the deployment of a global documenting system in an enterprise.
This system will allow you to revise the graphs of changing the parameters for a certain period during the year (or more time), to carry out statistical processing of data for the period (shift, day, week, month, quarter, year), will provide the opportunity to receive reports in printed and electronic forms. The installation of the system involves connection to the general network of the factory.
The advantage of this implementation is that information can be accessed by several computers on the factory network at the same time. In the future, the implementation of the system will allow you to connect to itself other parameters that will be brought into one of the systems.
The following technologies are used in the implementation of the project: OPC, WEB, SQL, FireWall, NET, ASP.NET, C #, CRM.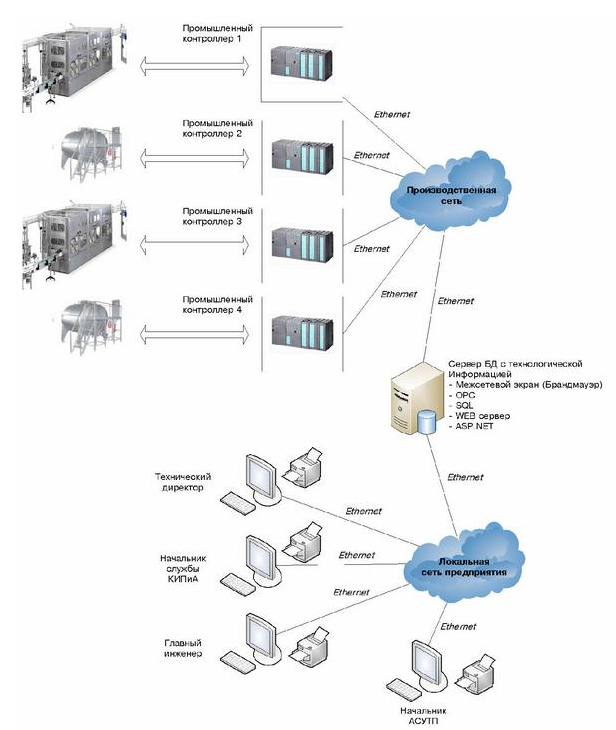 Global documentation system
Advantages of the proposed system in comparison with electronic paperless recorders:
The proposed system
Paperless Recorder
(e.g. Endress + Hauzer Ecograph T)
Number of entered parameters
almost any, always extensible
limited by the possibility of the recorder 6 pcs., non-expandable
Type of parameters entered
any discrete / analog (both input / output signals and internal variables)
only incoming or outgoing physical signals
Data transfer
Ethernet
Ethernet
Saving data
SQL server with manual / automatic saving
CompactFlash card
Connection
Ethernet
Physical reconnection of signals
Access to data
CMS system with access to the database through ASP.NET, authorization, modules are deployed
Internal Web server, non-extensible configuration